Lodging Camps for Packhorse Creek Outfitters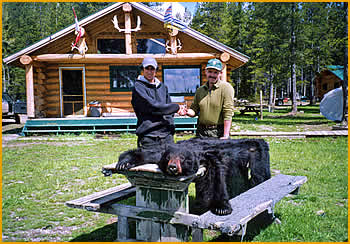 The main camp, or what we refer to as our base camp, is situated high above the Flathead River offering a magnificent view of the north end of the Flathead valley and its' surrounding peaks like Packhorse and Tombstone Peak. It is a fully outfitted cabin facility complete with running water, hot showers and a hot tub. Our handcrafted lodge is a place for social gathering and serving of hearty meals.

The numerous satellite camps are equipped with wood stoves and bunk beds to make for comfortable living quarters. All camps are equipped with barns and corrals which means we don't have to spend valuable hunting time looking for horses that may have grazed off over night.

Both the base camp and the satellite camps are strategically located for optimal access to the surrounding basins and valleys in which we hunt.